Accomodations on Sicily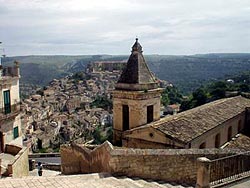 It is impossible to spend good vacations on Sicily without having a good living place. But this point cannot be the reason of a headache. Sicily is a really big destination with full range of accommodations. Accommodations on Sicily mean hotels in medieval monasteries and sanctuaries, luxury apartments where stayed movie starts of past and present, unpretentious but cute small villas across the coastal lines of the islands.

You're free to choose the view from the window of the ancient Sicilian hotel on the Volcano Etna. It's possible to find such a view in such cities as Catania and Taormina. You may rent a small house on one of the Sicily's islands, where you will feel the real relax and silence. Such islands are Ustica, Pantelleria, Aeolian archipelago and others. You may order a suit in 2 steps away from ancient artifacts and buildings of Agrigento and Syracuse. Or just get simple and typically Italian bungalow on the border of land and sea in such picturesque places like Sciacca, Caltagirone or Marsala. In every part of the Sicily would it be Enna or Aceriale it's easy to find the Italian hospitality along with the Sicilian temperament.

People all over the world are used to look in Internet for accommodation on Sicily. On Sizilen-netz we offer a wide choice of different houses, villas and apartments. They are not always the luxury one, but almost everywhere you will be invited with kings' respect. Sicily is conservative concerning their traditions but democratic concerning tourist comfort. So be free to use the knowledge to taste local cuisine as well as local beds.