Cinisi is a small place situated on the northern coast of Sicily. It will take you half an hour to get there from Palermo. This place is known...
"Those who have ever been to Sicily and haven't visited Palermo have never seen Sicily at all". Everyone will understand the...
Cefalu is a small cozy resort in the west part of the Palermo province. The population is about 15 000 people nowadays. But during the tourist...
Termini Imerese is situated not far from the capital of Sicily. It will take you only half an hour to get to Palermo. The name of Termini means...
Monreale is a small town 7 km from Palermo, which is situated on the Caputo Mountain at the height of more than 300 m. The name of the place...
Mondello is a small resort located 10 km to the west of Palermo. In summer most of the Palermo citizens come to Mondello to spend their...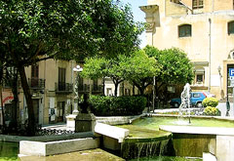 Corleone is well-known over the world. But it is an ill fame. Mafia, Mario Puzo, the author of the famous book "the God Father",...